Apr 27, 2014
1,141
353
83
Galacticraft 3 will include as an Asteroid "Treasure" item, a schematic for an awesome new machine/vehicle, the
Astro Miner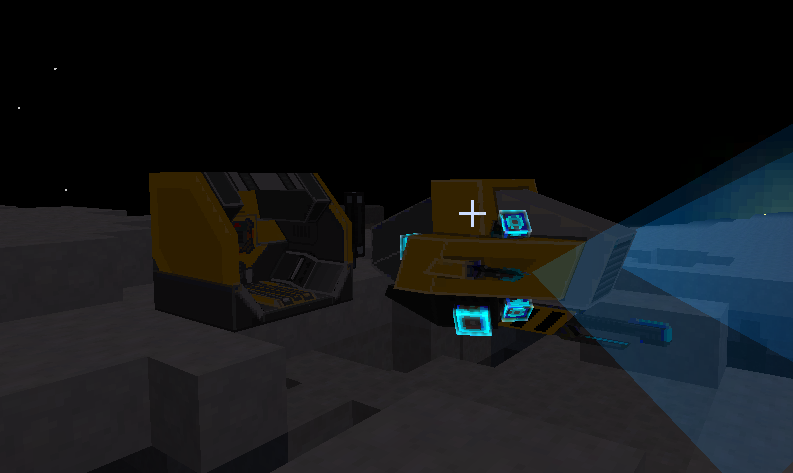 (I forgot to say: you really need to view it in the dark.)
It's an automatic mining vehicle which moves around, making tunnels and mining up everything it finds, and brings it all back to a base station where it docks. It's a little like a Railcraft
Tunnel Bore
, or a ComputerCraft
Mining Turtle
, a mobile Buildcraft
Quarry
, or the mining minions in Minions mod if you know that one. But it's better and more useful than any of those, and easier to set up. Basically, it is the best automatic mining tool in Minecraft. And it
looks freaking awesome!
The looks are 100% thanks to
Space Viking
so please thank him.
To see a preview of it:
1. Download latest Galacticraft (version 3.0.11.310 or later)
2. In Creative mode (or NEI) grab yourself:
* 8 Astro Miner Base blocks (if your game language is not English, please search for "minerbase")
* an Astro Miner (if your game language is not English, please search for "astrominer")
3. Place down the 8 Astro Miner Base blocks in a 2 x 2 x 2 cube - when correctly placed, it should transform into an industrial looking dock for the miner. At this point make sure it is facing
outwards
from your base, you don't want your precious base to get all chewed up. You can wrench it to rotate it.
4. When you are ready, right click the Astro Miner Base with the Astro Miner item to place an
Astro Miner
(you cannot wrench the base any more after an
Astro Miner
has been place in it)
5. Connect power to the Astro Miner Base, let it power up for a few seconds, and enjoy!
6. If you need to stop the
Astro Miner
, just hit it to break it, like hitting a rocket
7. If you need to get at the blocks it has mined, breaking the Astro Miner or the Astro Miner Base will drop any blocks they contain
Warnings:
* Use at your own risk - this will destroy blocks (but only in the direction the base is facing)
* This is a beta preview, there may be bugs - especially if you do challenging things like run things into each other
* This has not been tested with other mods - it should be OK with most things though. Its AI will try to avoid breaking anything (from any mod) which looks like machinery or chests

If the Astro Miner finds something it cannot mine (bedrock, or lava source blocks) or will not mine (chests, any type of machinery, rails, redstone wire, fortress or End Portal blocks, farmland, growing crops) then it will turn around and go back to its base. If it is already en route to its base when obstructed, then it will stop.

Known issues (do not re-post about these)
1. These items are Creative mode only and there is no recipe or schematic, for now
2. There is no GUI yet - currently the only way to get items out of the Astro Miner Base is to break it
3. The Astro Miner Base does not yet work with hoppers or item pipes
4. Moving or breaking the Astro Miner Base after it was already linked with an Astro Miner will cause problems: the Astro Miner will come back to the base location and become stuck. (Worst case, it will stop moving somewhere out from the base.)
5. In the places where it turns while mining, the Astro Miner sometimes forgets to mine some of the blocks in the turn
6. The mining is not yet smart - currently it will go out and start mining in a random spot chosen some distance out from, and below, its base.
Do not build the base below about height y=20 otherwise the Astro Miner will encounter bedrock, causing it to return home
7. There is currently no sound - we know this will be even more awesome with some sound
Next plans
A. Fix / complete all the known issues above.
B. Improved scanning beam visual effect and add a block destruction visual effect - we know you want to see those blocks getting lasered!
C. Special mining AI for the Asteroids dimension - it will know how to go find the asteroids and mine out their cores. (This has been in planning for 6 months or more! Your Galacticraft world has been carefully saving a list of where the asteroids are, ready for this day!)
D. Eventually there will be optional upgrades for the Astro Miner to add extra capabilities:
* increased range
* better AI (pathfinding around obstacles instead of returning to base)
* mine valuable blocks seen on the sides of its tunnels
* larger hold capacity
* faster movement, faster mining
* fluid collection tanks
Edit by Ezer'Arch: pic FTW! And merged posts for better readability.
Last edited by a moderator: